September 15 2020, 13:36 Fruit-Inform
Join top speakers of Blueberries in Eastern Europe Webinar!
Blueberries in Eastern Europe, International Webinar on the long-term blueberry market outlook for the Eastern Europe, organized by Fruit-Inform, will start its work at 13:00 (CET), Sep 17, Thursday, and involve top speakers from Ukraine and other European countries.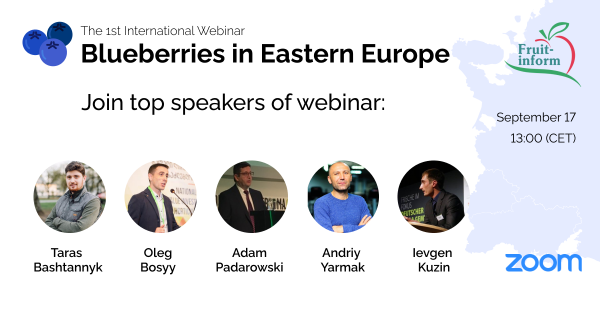 The webinar's agenda will include speeches and presentations done by the following experts:
Andriy Yarmak, Investment Officer at FAO. The global blueberry market: key hidden rocks and unforeseen trends expected in the next 5 years
Ievgen Kuzin, Analyst at Fruit-Inform. What is the blueberry market in Eastern Europe now, and what is expected by 2025?
Adam Paradowski, Chairman of the Board at Plantpress. Poland in the EU blueberry market: current trends and 5-year outlook
Taras Bashtannyk, Director at Ukrainian Berry. A Ukrainian bluenerry grower in 2020-2025: key development strategies and export directions
Oleg Bosyy, Managing Partner at FruiTech. Technological basis of blueberry production in the Eastern Europe - how are technologies changing the sector?
The webinar will run in English. Registration for the event is free of charge, but participation is limited. You can join other participants by filling out a registration form available here.
Each pre-registered visitor will also be granted with a 10% discount for the fundamental study "The Blueberry Market in the Eastern Europe 2020", which results will be presented during the webinar.
Please feel free to contact us on any questions concerning the webinar or the study:
Mr. Ievgen Kuzin
+380 96 5836323